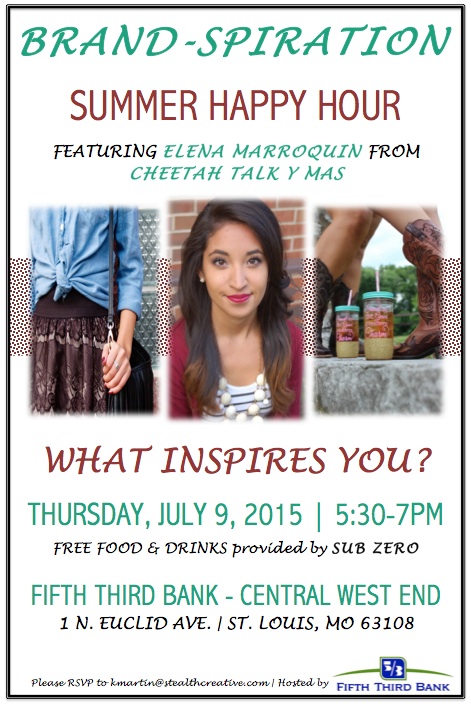 I'm beyond excited to announce I will be having my first speaking engagement covering the importance of branding this Thursday, sponsored by Stealth and Fifth Third Bank. 
This Happy Hour is really going to focus on why it's important to develop one's personal brand, and how recent college graduates can go about doing that. I'll speak about  how I became involved  in the St. Louis blogging community and what inspires me for both blogging and my career. 
I will speak about my experience of developing my personal brand, searching for my dream job, and making the transition from college to the real world. Ultimately, myself and all those in attendance will answer the question…What inspires you?
I hope to see you there!
Date: July 9th
Time: 5:30-7 pm
Location: Fifth Third Bank, Central West End Location (1 N. Euclid Ave., St. Louis, MO 63108)
Cater: Food and drinks supplied by Sub Zero
Featuring: Elena Marroquin from the blog, Cheetah Talk y Mas. I'll  be talking about inspiration, motivation, and experiences with job hunting as a recent college grad, etc.