Disclosure: This post has been compensated by Collective Bias, Inc. and AcneFree. All opinions are mine alone. #AcneFreeSummer #CollectiveBias
Summer is the time to hit the pool, lake, river, basically get in any kind of water because it is so hot. This means your face and body will be exposed to the sun, high heat and you'll be baring your bare skin to the world and if you have a few blemishes (or acne-prone skin) on your face or skin this may not be the most comfortable feeling for you. Luckily, AcneFree has got you covered! I picked up their famous AcneFree Sensitive Skin 24 Hour Acne Clearing System and AcneFree Therapeutic Sulfur Mask,  both which I have added to my everyday routine and making my life easier and giving me the confidence I need to hit the pool and not be worried about the blemishes on my skin!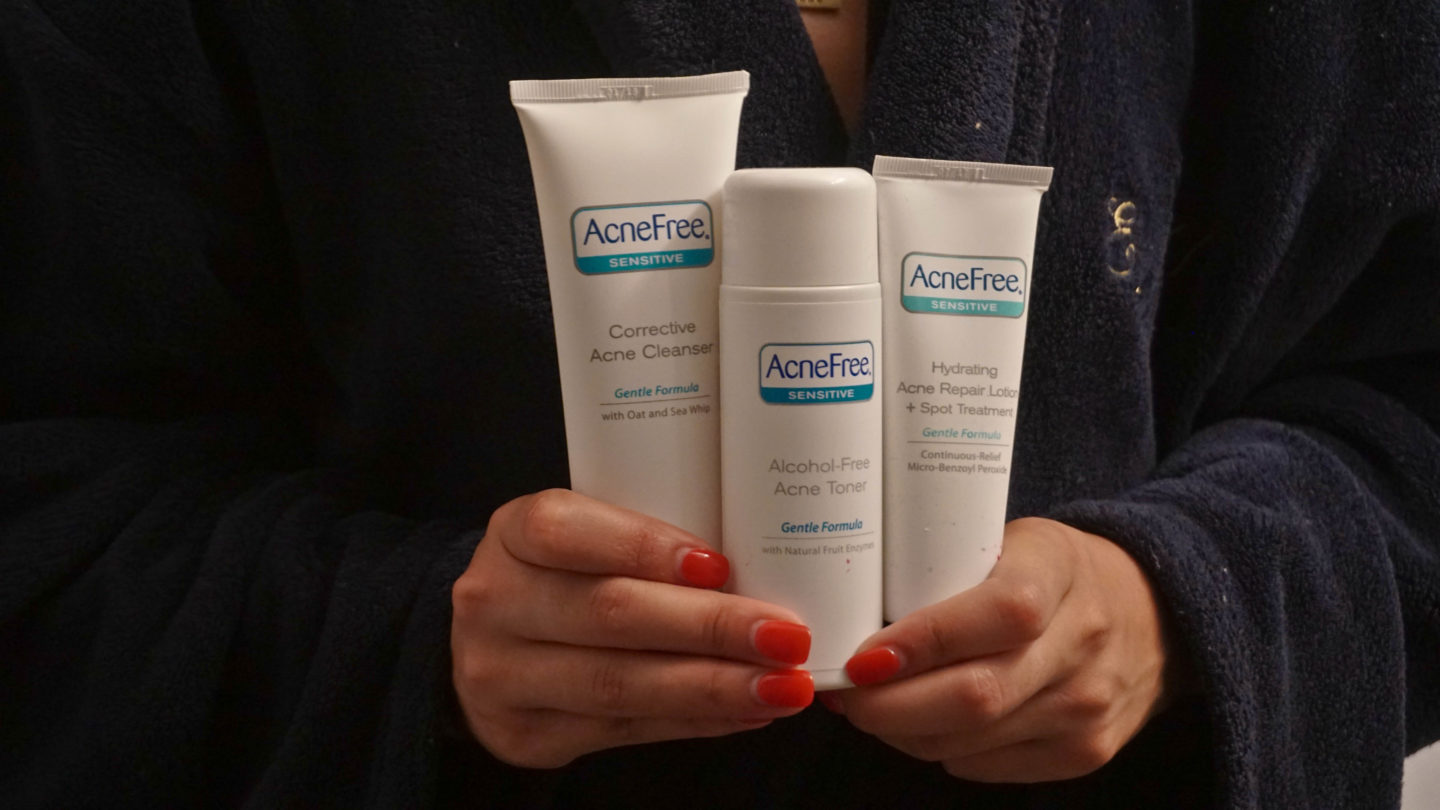 Now, if you'e looking to upgrade your skincare routine or start having one and want to get rid of your blemishes or have acne-prone skin I highly recommend trying one of their Clearing System kits. My skin can be a little tricky so I personally picked up the AcneFree Sensitive Skin 24 Hour Acne Clearing System. I have begun to use this every night before I go to sleep and have added it to my night time routine. In case you're wondering how to tackle this easy 3 step kit here's how:
The AcneFree Sensitive Skin 24 Hour Acne Clearing System is the only acne clearing regimen designed for sensitive skin. This highly effective three-step system is gentle on skin yet tough on acne. Consistent use controls new breakouts, reduces redness and eliminates blackheads around the clock. AcneFree is the only brand that makes acne-clearing systems formulated with Advanced Micro-Benzoyl Peroxide. Micro-sized benzoyl peroxide is designed to work faster and penetrate deeper into pores – without the harshness and over-drying that can occur with traditional benzoyl peroxide. The AcneFree Sensitive Skin 24 Hour Acne Clearing System includes Corrective Acne Cleanser, Alcohol-Free Acne Toner and Hydrating Acne Repair Lotion + Spot Treatment – three simple steps, twice a day, for clearer skin!
Step 1:
Corrective Acne Cleanser gently deep-cleans to remove pore-clogging oil and impurities. This sulfate-free cleanser fights acne with Salicylic Acid (1.5%) while botanical extracts soothe the skin.
Use to cleanse skin every morning and evening. May also be used on chest and back.
Step 2:
Alcohol-Free Acne Toner helps to balance skin tone and remove dead skin cells with natural fruit extracts. This calming and anti-redness formula is gentle enough for sensitive skin.
For use twice a day after cleansing. May also be used on chest and back.
Step 3:
Hydrating Acne Repair Lotion + Spot Treatment with Micro-Benzoyl Peroxide offers 24 hour continuous clearing when used twice a day. Micro-sized acne medicine benzoyl peroxide (3%) is easily absorbed into pores to eliminate acne bacteria and provide continuous breakout control.
Apply to affected areas after cleanser and toner May also be used on entire face, chest and back, or as a spot treatment.
AcneFree Therapeutic Sulfur Mask is a deep penetrating pore therapy to help soothe acne inflamed skin and absorb excess oil. The therapeutic formula features Sulfur, a natural and effective acne treatment ingredient. Vitamin C, Copper, Zinc and Meadowsweet help to minimize the appearance of pores, and refine skin tone and texture.
The AcneFree Therapeutic Sulfur Mask leaves skin feeling refreshed with a healthy glow. DIRECTIONS FOR USE: Massage until mask turns blue (3 min), leave on for additional 10 min. Rinse well. Use  2-3 times a week.
Be sure to check out Amazon to shop for these products and so many more! Or click the image below 🙂